Tech
watchOS 9 revealed — all the new Apple Watch features
watchOS 9 is official, and it's packed with new features for Apple Watch including new running metrics, refreshed watch faces, added sleep-tracking tools and a medication management app.
These upgrades and more are coming to existing Apple Watch models, which means current users can benefit from many of the same features we expect to see on the rumored Apple Watch 8.
Though the watchOS 9 announcements didn't reveal much about the new Apple Watch release date or other upcoming Apple Watch hardware details, there's something to be said for improved software. As a key pillar of Apple's wearable experience, watchOS is one of the reasons the Apple Watch is the best smartwatch year after year.
watchOS 9 will become publicly available in the fall, but until then, here's everything you'll want to know from watchOS 9 new features and beta testing to compatibility and what it means for Apple Watch 8.
watchOS 9 cheat sheet: top new Apple Watch features
Four new Apple Watch faces
Added running metrics
Track heart rate zones while working out
Atrial fibrillation history for those diagnosed with AFib
Support for six new keyboard languages
Sleep Stages tracking added to Sleep app
Family Setup adds HomeKit support
Notifications for medication management with new Medications app
Redesigned Calendar app
watchOS 9 release date
This is no confirmed watchOS 9 release date yet, though it should be announced on June 6 (unless Apple throws us a curveball.) The exact release date of new watchOS versions comes out at the same time Apple announces its new smartwatch; that's usually in the fall.
Before the final version of watchOS 9 rolls out, beta versions will likely be available for both developers and public testers. The developer version usually launches soon after WWDC, while the public version rolls out in mid-summer. For reference, the first public beta version of watchOS 8 came out on July 1, 2021.
watchOS 9 compatibility — which Apple Watch models will be eligible?
As for watchOS 9 compatibility, we don't know whether Apple will extend support for the all the Apple Watch models currently on sale. At the very least, the Apple Watch 7 and Apple Watch SE are all but guaranteed to get watchOS 9. We're less sure about compatibility for the Apple Watch 3, though the four-year-old smartwatch is still sold by Apple. There's a rumor going around that the Apple Watch 3 is finally being discontinued in 2022.
Apple Watch 4, Apple Watch 5 and Apple Watch 6 users should be eligible for watchOS 9, too. And, as always, the newest watchOS will be free to install. Apple doesn't charge for software updates.
Here's our full guide on watchOS 9 compatibility.
watchOS 9 new watch faces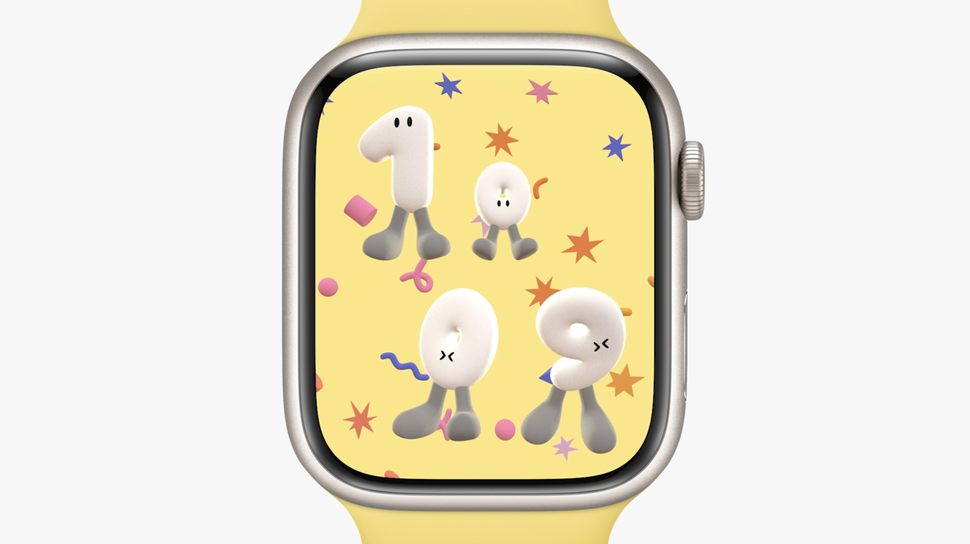 There are four new watch faces coming in watchOS 9, which is actually quite a lot at once. In addition to an updated Astronomy face, the Lunar watch face gives user the option to follow a pre-modern calendar, such as the Islamic calendar.
The other two faces include a playful, animated digital clock from artist Joy Fulton (opens in new tab) and the Metropolitan watch face, which features typography with font that stretches and multiple color options.
That's not all — more watch faces are getting complications, plus the option to pin favorite apps. Dogs and cats are supported in the Portrait face now, too.
watchOS 9 running and other workout features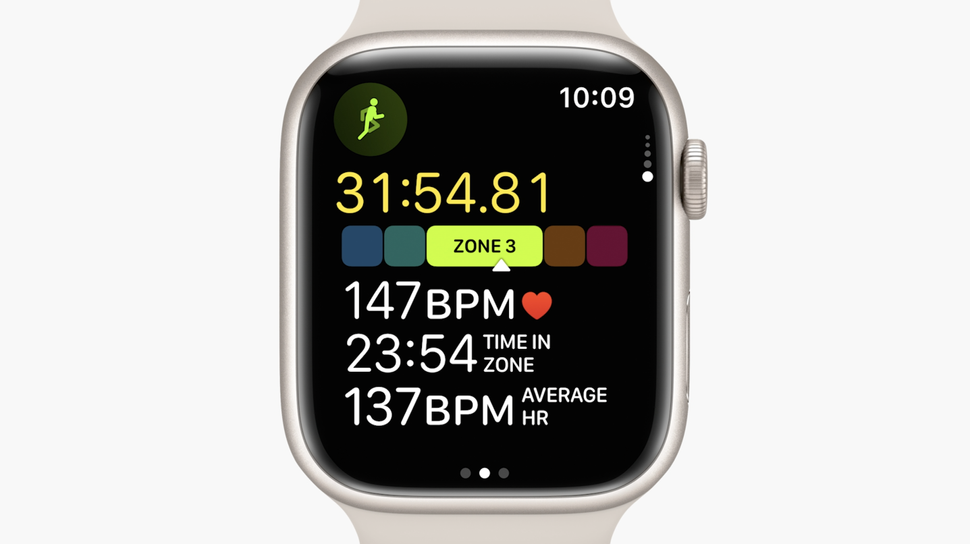 The Apple Watch is making a convincing case against the best running watches. With multiple new running metrics, there are more ways to monitor your running and progress. Vertical oscillation, stride length and ground contact time will now be seen among an upgraded live workout interface — which also includes segments, splits, elevation and the other expected metrics.
A new metric coming to Apple Watch workout-tracking is heart rate zones. Monitoring your heart rate zones can help you get a sense of your intensity levels, and let you know how hard you're working (and whether you're recovering properly) during exercise.
Your heart rate zones will play a role in the new Custom workout tool. A custom workout can add structure into your run, pushing alerts to your wrist based on your heart rate and distance. You'll also run with a power target, or target effort in a range you can reasonably sustain. Finally, if you run the same route often, your Apple Watch will automatically be able to compare your performance over time on that route.
watchOS 9 sleep cycles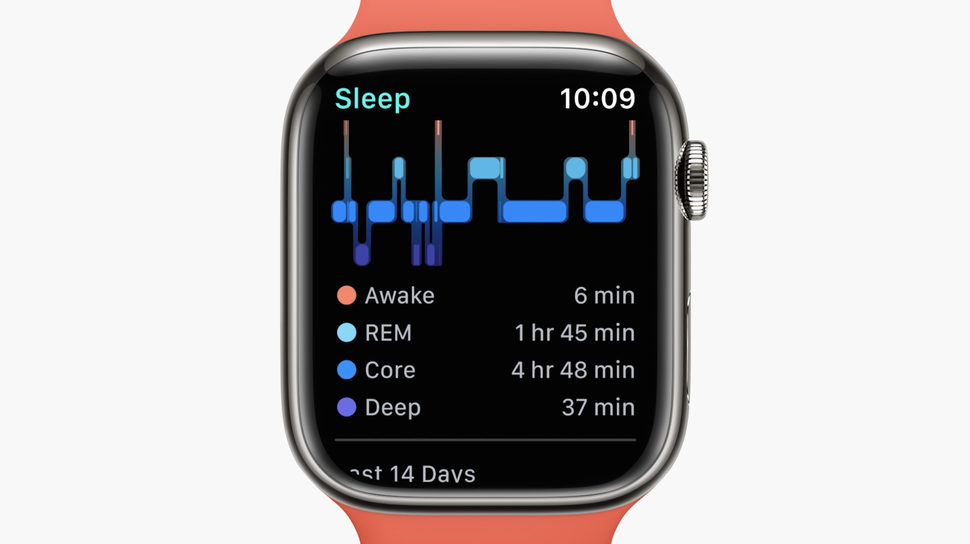 Apple Watch sleep tracking has improved incrementally since it first debuted two years ago. In watchOS 9, the Sleep app is added sleep stage or sleep cycle tracking. Using information gathered by the accelerometer and heart rate monitor, the Apple Watch should now be able to detect what stage of sleep you're in. You'll be able to see how much time you spent in each stage overnight and when you might've woken up.
To further its efforts in sleep science, Apple is also giving users the option to contribute sleep stage data in the Apple Heart and Movement Study through the Research app.
watchOS 9 AFib History
Those with the Apple Watch 4 or newer (minus the Apple Watch SE) have been able to monitor for signs of atrial fibrillation, or irregular heartbeats. Now, those with diagnosed AFib can review a history of their electrocardiograms (ECGs) to see how often they spend in AFib. Using the Health app, those users will also be able to review whether their other habits or activities impact AFib. And, building on the medical sharing feature introduced last year, users can share their AFib History data with their doctors. 
watchOS 9 Medications app
With a new Medications app, Apple Watch users can track and manage medications directly from their wrist. Though a large part on the medication management experience will take place in the Health app, on Apple Watch users can receive notifications or reminders to take medication. 
When you add a medication in the Health app, you'll be warned of drug interactions or other critical concerns with the medications you take. Trusted individuals can also see your medication data, should you have a caretaker or relative who keeps an eye on you.
watchOS 9 — what does it mean for Apple Watch 8?
Wondering what watchOS 9 tells us about Apple Watch 8? The answer is, not much. We're glad to see Apple prioritized health and wellness features with this year's software update, so it's possible the Apple Watch 8 will continue those efforts with an added health sensor.