Tech
The best wireless headphones in 2022
The best wireless headphones lists our top over-ear headphones and in-ear designs to free you from the inconvenience of cabled listening. The stability and quality of wired headphones will likely leave them as the true audiophile's choice, but improvements in Bluetooth connectivity have produced plenty of great-sounding wireless headphones and earbuds that won't fail to put a smile on your face.
The wireless headphones on this list are the best-performing, longest-lasting or best-value of all the models we've tested. So, if you want portable sound and the best Bluetooth speakers are too impersonal, read on to find out the best wireless headphones you can buy today.
Looking for a pair of headphones to improve online meeting call quality while working from home? Then check our guide to the best headsets and headphones for working from home. And for great wireless earbud options, check out our guide targeting the best wireless earbuds.
Top 3 best wireless headphones
The best wireless headphones you can buy right now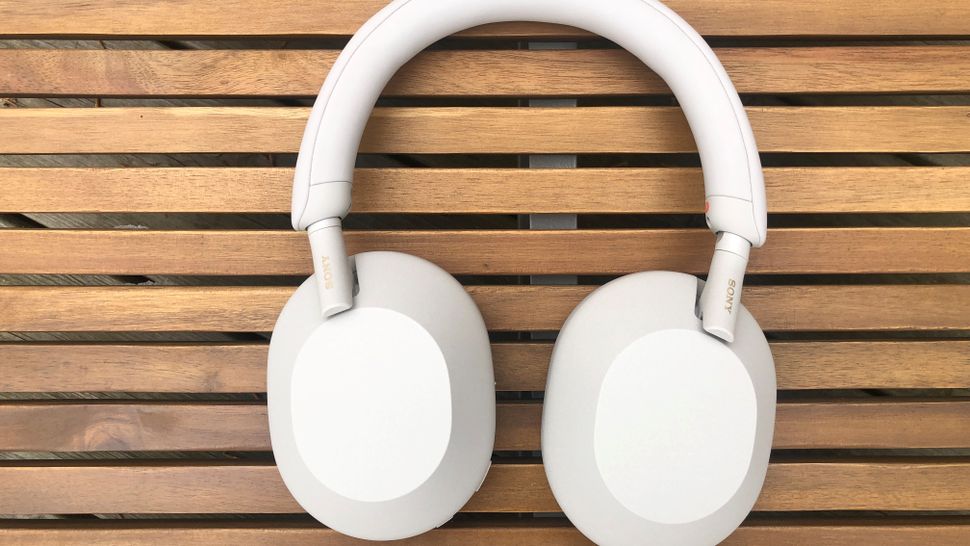 Sony's new flagship headphones improve upon the already great XM4s with better active noise cancellation, call quality, sound, comfort and connectivity. Most of the changes aren't huge — though the first two are certainly noticeable — but it's more than enough for Sony to retain its long-held number 1 spot. 
The touch controls and battery life (30 hours with ANC on, 40 with it off) are also to be commended, as is the excellent Sony Headphones Control app, which lets you tweak the EQ to your preference. The slightly bland design counts against them, as does the $50 price increase, but the XM4s are still around if you want to spend less, and overall there's no question that these are the best wireless headphones you can buy.
Read our full Sony WH-1000XM5 review.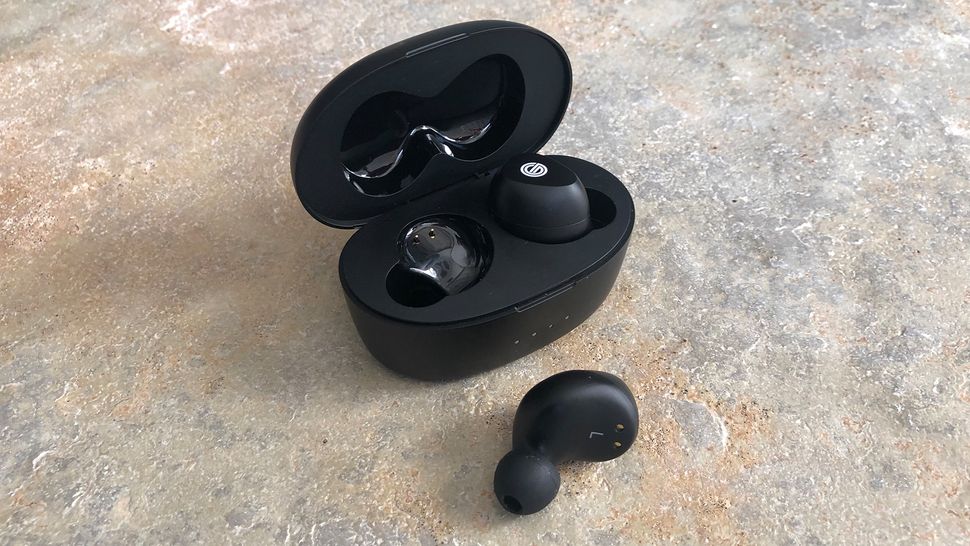 The Grado GT220 has articulate and balanced sound that only a handful of true wireless models can match. All music selections are given plenty of depth and texture, which brings a naturalness to vocals, and allows you to hear songs as the artist and recording engineer originally intended. More impressive is how the GT220 achieves this without Hi-Res Audio codec support or advanced features like a customizable EQ with presets. The high comfort levels and reasonable battery life (6 hours) also mean you can conveniently enjoy elite sound quality at home or on the go.
Grado's discreet design won't win over fashionistas and the GT220's bare feature set might have you feeling a bit shortchanged for the price. Then again, if sound is the priority, $259 is a bargain compared to what high-end audio brands (e.g., Bang & Olufsen, Bowers & Wilkins) sell their buds for.
Read our full Grado GT220 review.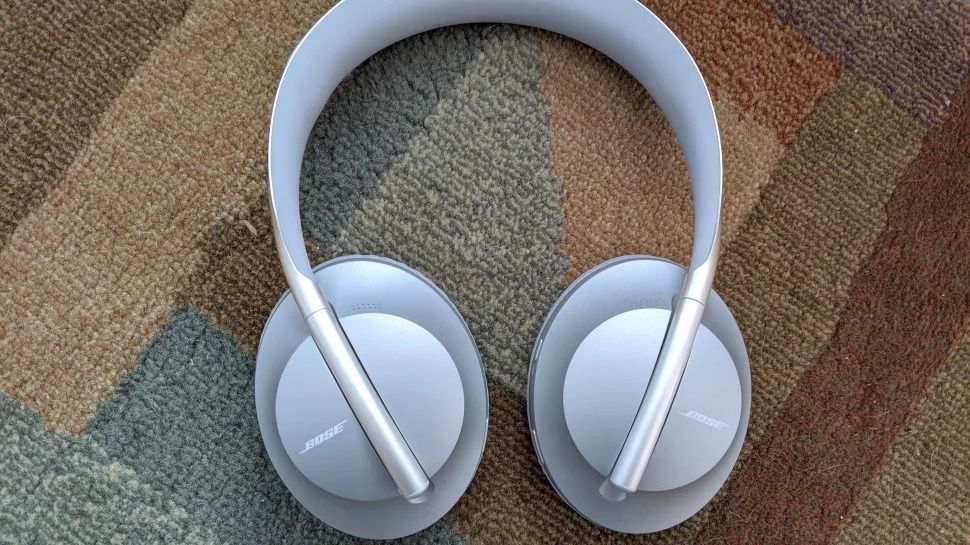 These aren't your daddy's Bose. The Bose 700 headphones have raised the bar for active noise cancelling headphones, effectively silencing outside noise while simultaneously allowing you to clearly be heard when talking to someone on the phone or cueing up a digital assistant. The 700s don't skimp on audio quality either, offering clean, balanced sound with some impressive, intuitive tech flourishes.
Right now, it's the only model engineered with 11 levels of noise cancellation to keep things quiet without adding distortion to your music, and the Full Transparency mode is similarly impressive. Battery life is standard at 20 hours, though you can spend extra on the travel charging case (opens in new tab) that holds 40 extra hours of playtime and protects the cans in style. Anyone looking to upgrade their work-from-home headphones may also want to look at the Bose 700 UC (opens in new tab), a new version that maintains the excellent mic performance of the original and is programmed to work with third-party cloud services like Microsoft Teams, Google Hangouts Meet, and Zoom to enhance virtual collaborations.
Read our full Bose Noise Cancelling Headphones 700 review.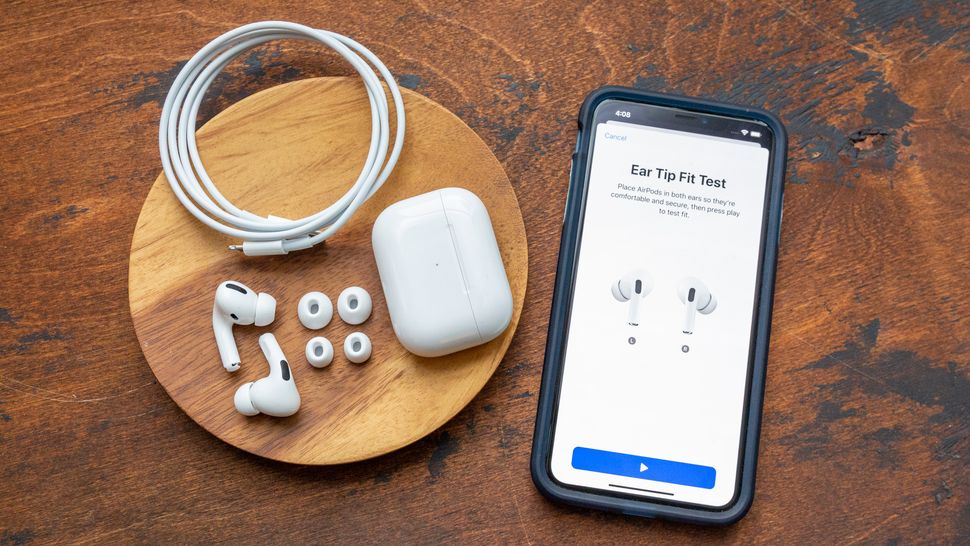 Apple's noise-cancelling wireless earbuds have definitely lived up to their hype. Headlining its feature set is active noise cancellation, which is surprisingly effective for hushing rowdy commuters and minimizing background noises during phone calls. The addition of ear tips makes a world of difference for both in-ear stability and sound quality; the tips produce a safe, tight seal that allows music to sound fuller. Apple also developed an adaptive EQ that automatically tunes the low and mid frequencies to your ear shape. Adding to its audio capabilities, Apple released the iOS 14 update that introduces two new features: auto-switching between Apple devices and spatial audio to create a 3D-dimension soundscape.
Hands? That's so passé. Thanks to Apple's H1 chip, the AirPods Pro are packing even more hands-free Siri integration. Plus, you get the near-instant pairing and stable connections we've come to expect from an Apple audio product. And with the new Force Sensors embedded in the redesigned stems, you may never need to touch your smartphone ever again. 
Read our full Apple AirPods Pro review.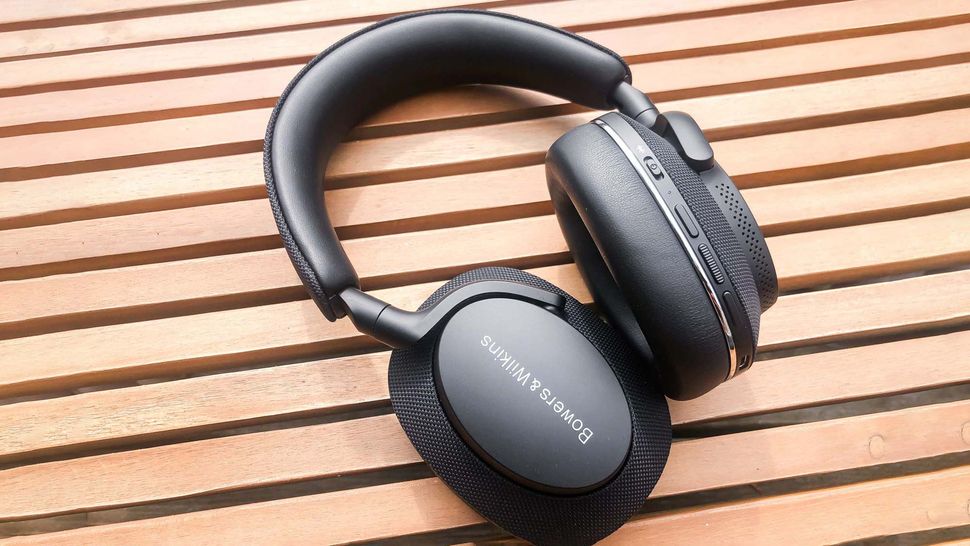 The Bowers & Wilkins Px7 S2 over-ear headphones are priced the same as Sony's Sony WH-1000XM5. They feel good, are beautifully constructed and are either good-looking in an understated way or a bit too understated for their own good — it depends on your taste. They have active noise-cancelation and a control app — but 'extended functionality' is not their thing. 
They're designed to deliver the best wireless sound this sort of money can buy, and they do. The entire frequency range hangs together well, with nothing overstated and nothing struggling for representation. Tonality is clean, consistent and entirely convincing. If you want every wireless headphone feature under the sun, you have plenty of choice. If, however, you want headphones that make the most of the digital audio information you give them, the Px7 S2 really needs to be in your thinking.
Rear our full Bowers & Wilkins Px7 S2 review.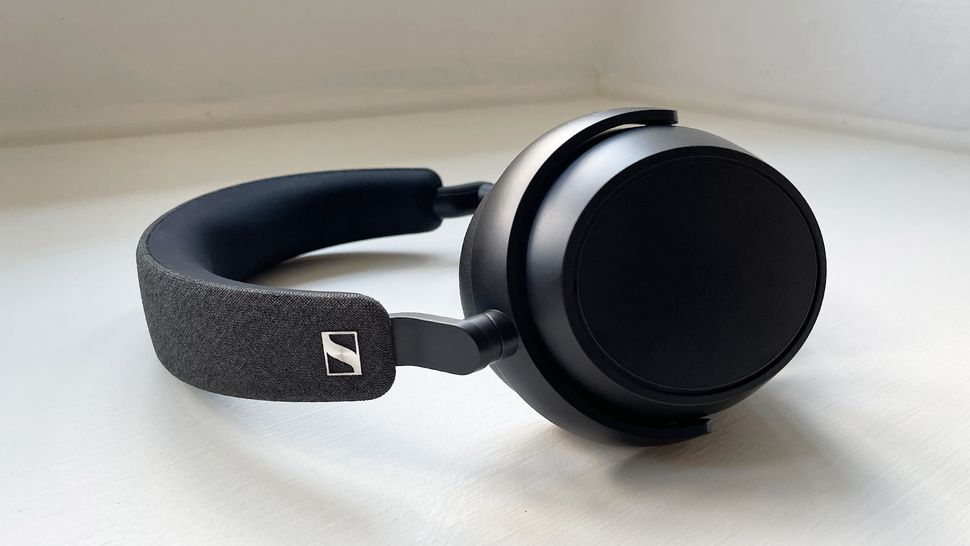 Although the revamped design of Sennheiser's fourth generation Momentum Wireless headphones don't stand out quite like their classic-looking predecessor, the 60-hour battery life is a real crowd pleaser and make these the one to beat. Add in the easy-going Sennheiser sound and effective noise cancelling, and the Momentum 4 are one the most practical wireless headphones we've seen, perfectly built for a life on the road rather than tethered to a power socket needing regular battery top ups. 
Sennheiser's smooth house sound handles a wide range of music content, from pounding beats to more mellow tunes with aplomb. It has Bluetooth 5.2 and aptX Adaptive support, and there's a supplied 3.5mm cable for audiophile wired connections. ANC performance is effective, and auto Wind Noise Reduction is very impressive when stood on a windy train platform on daily work commutes.
Read our full Sennheiser Momentum 4 Wireless review.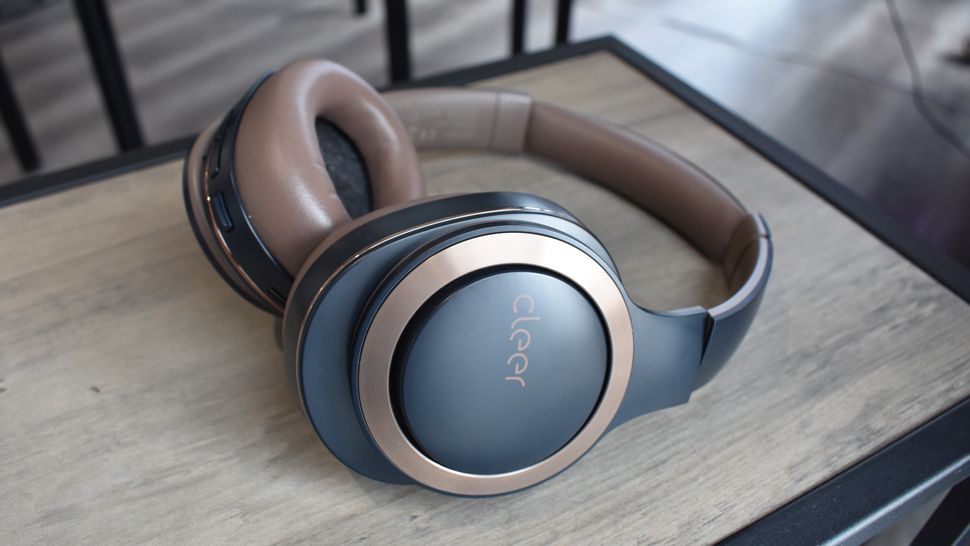 Cleer is no stranger to high-end audio gear, like the $699 Cleer Crescent, but the Enduro ANC shows it can produce a seriously tempting pair of cheap wireless headphones as well. For starters, it's got the best battery life of any over-ear headphones we've tested: playing music at 50% volume got us over 50 hours of playtime, even with ANC.
And let's not gloss over that even having ANC at this price is an impressive feat. Filling out the rest of the the Enduro ANC's feature list are handy tools like the Ambient mode, NFC and Android Fast Pairing, aptX Adaptive support and EQ customization. That's an awful lot of toys for the price, and yes, sound quality is good too.
Read our full Cleer Enduro ANC review.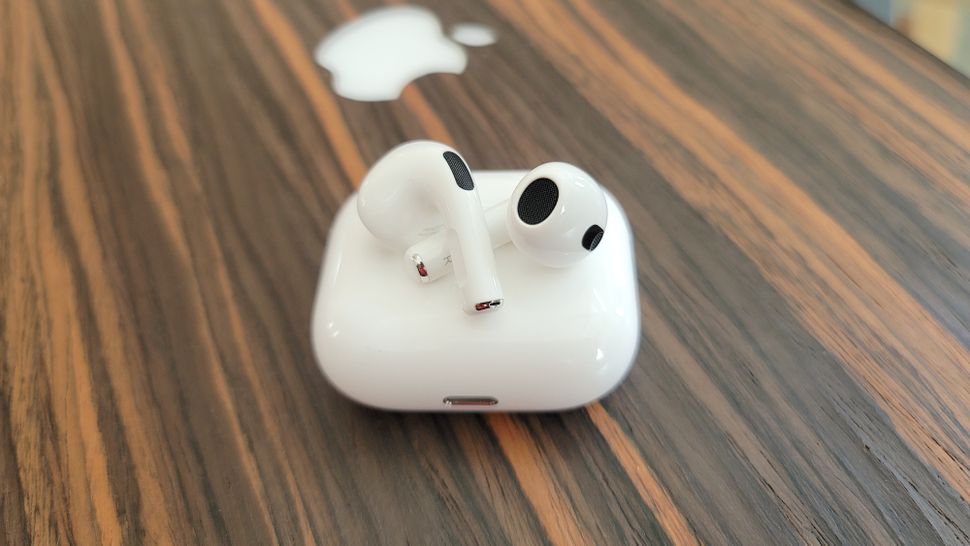 Apple's third-gen AirPods share similar specs with the AirPods Pro, which is quite the feat for sub-$180 wireless earbuds. On the list are high-performance features like Adaptive EQ and Spatial Audio that bring their own unique traits to the table, from adjusting frequencies to create distinctive sound to bringing 3D-like effects to music and movies. Almost everything tied to the H1 chip is present, including automatic switching, "Hey Siri" voice activation, and even new additions like Enhanced Find My to better locate misplaced AirPods. Apple even increased battery life to 6 hours, making these the longest-lasting AirPods ever. 
Sure, they lack ANC and Transparency mode, and the loose-fitting design is something that Apple has yet to perfect, but the AirPods 3's overall performance outweighs all drawbacks. If the price seems too high, and you still want standard AirPods with premium features, look at the AirPods 2, which just dropped to $129.
Read our full AirPods 3 review.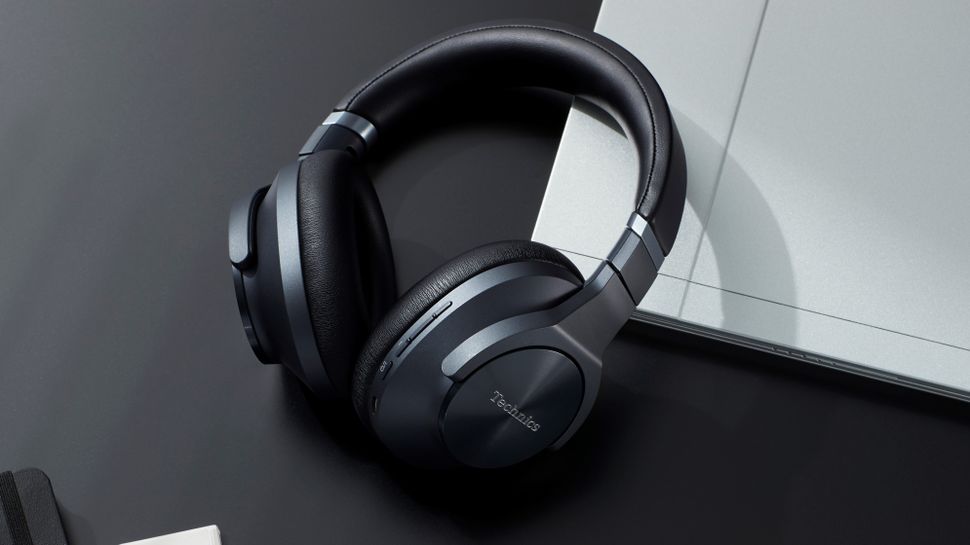 At $350, the Technics EAH-A800 don't come cheap and it is pitted against some of the market's best audiophiles headphones, including the Bowers & Wilkins PX7 and Sony WH-1000XM4. However, these over-ear cans handle their own, backed by legacy design and sound that justify the expensive MSRP. Craftsmanship is superb with the headphones replicating the elegant aesthetic of Technics' luxury stereo amplifiers (the shiny aluminum housing and minimalist detailing are on-brand). Sound is tuned to suit all music genres and the inclusion of lossless audio transmission using the LDAC codec increases streaming quality on compatible services (e.g., Deezer, Tidal). Battery life is also top tier with a full charge generating up to 50 hours of ANC listening time.
Speaking of which, noise cancellation is considered the model's one true weakness, though the ambient sound mode is great for broadcasting the speech of others.
Read our full Technics EAH-A800 review.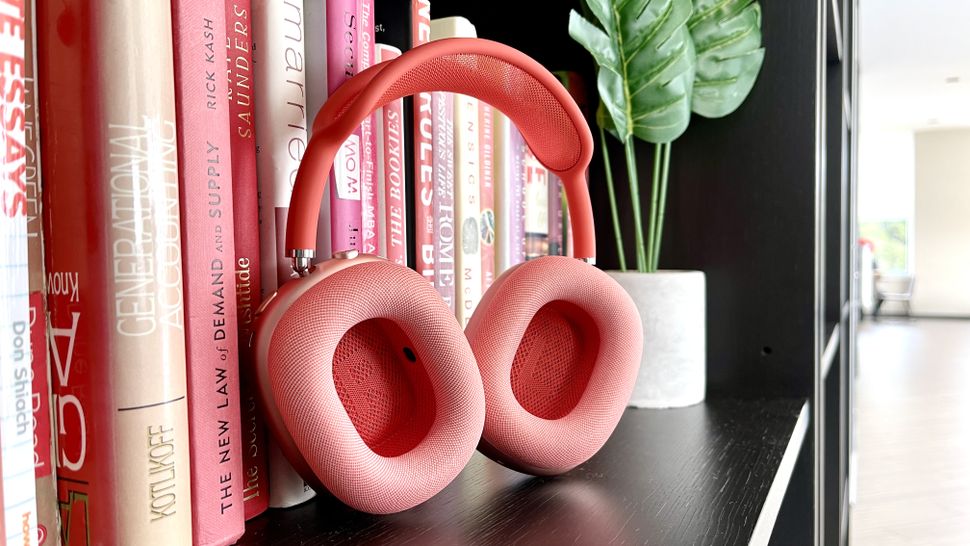 The dinky AirPods Pro are a much more cost-effective route into Apple headphones, considering the AirPods Max cost a widowmaking $549. Still, you get what you pay for, and on a purely technical level, Apple's first over-ear cans are absolute fantastic.
There's active noise cancelling, which works about as well as the best on the market. There's Spatial Audio, which creates a striking surround sound effect as you move your head. There's a impeccable build quality, the comfy memory foam earcup padding, the healthy battery life – the list goes on. It's worth noting that if you ever want to switch to wired listening you'll need to buy a separate $35 Lightning cable, but on Bluetooth alone these headphones are an excellent iOS companion.
Read our full Apple AirPods Max review.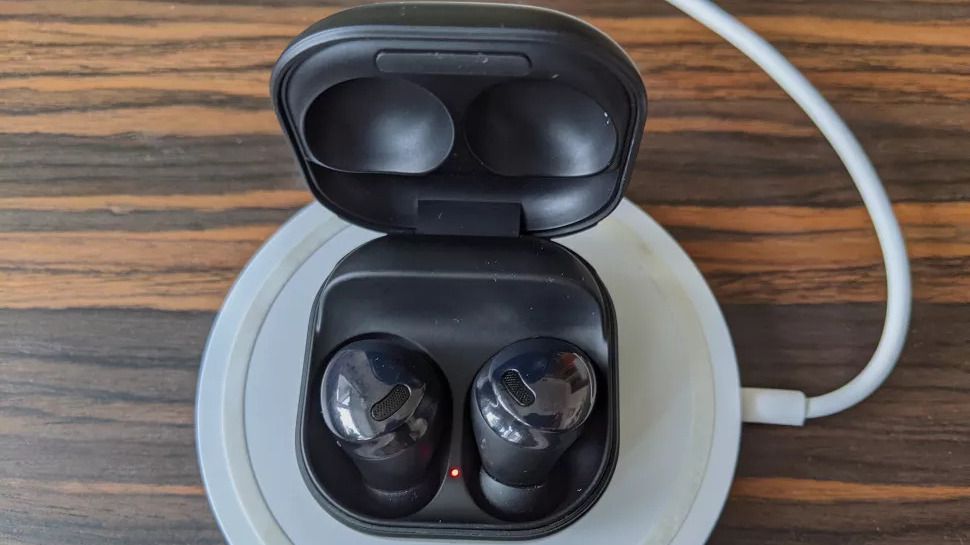 The Samsung Galaxy Buds Pro partly exist to tempt you into buying a Galaxy smartphone: only recent Samsung handsets running OneUI 3.1 can access the Galaxy Buds Pro's most interesting features, like its 360 Audio surround sound.
That said, there's plenty to enjoy here even if you haven't bought into the Galaxy ecosystem. Sound quality and ANC are both noticeably better than on the previous Galaxy Buds Live, and this is the first pair of Samsung earbuds to come with full, IPX7-certified waterproofing. Battery life could be better, but is no worse than that of the AirPods Pro, and these cost less unless you catch Apple's buds on sale.
Read our full Samsung Galaxy Buds Pro review.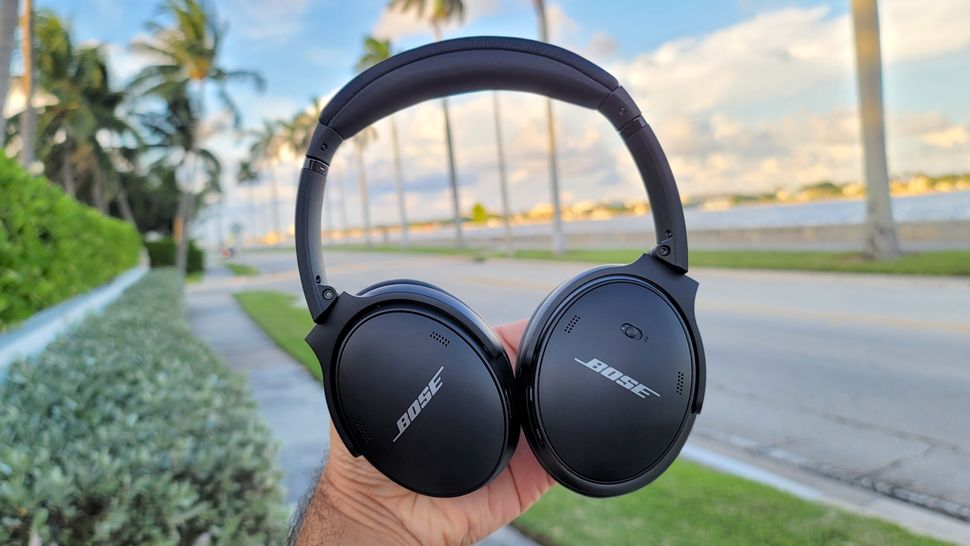 Bose's latest model is an excellent upgrade for brand enthusiasts who want prime active noise cancellation and longer battery life. These headphones offer ANC performance very similar to the flagship 700, blocking out a significant number of ambient noises, while also boasting one of the more powerful transparency modes in the category. A total of six microphones were placed into the minimalist, cozy design, four of which are used for picking up vocals and producing clear-sounding calls. Bluetooth 5.1 ensures strong and reliable connectivity with two devices at the same time. Having 24 hours of playtime on the go is also a major improvement compared to past models.
You will need to be mindful of battery life because not being able to turn off ANC means these headphones will drain juice more quickly than expected. At least Bose gives you the opportunity to still use ANC in wired mode.
Read our full Bose QuietComfort 45 review.
How to choose the best wireless headphones for you
The most important thing to look for in the best wireless headphones is battery life. Most devices have an expected battery life, or the number of hours the company says the device can last on a charge. Most wireless earbuds are rated for 5 to 8 hours, while Bluetooth headphones can last about 25 hours or higher.
Another important factor is design — depending on how you like to wear them, you may want to go with on-ear, over-ear or in-ear wireless headphones.
Let's not forget accessories. Should you want to purchase wireless headphones, look at the bundled accessories listed on the packaging. On your radar should be an aux cable, carry case, charging cable, and a user guide.
If you're interested in a pair of truly wireless buds, make sure you receive a handful of extra ear tips, charging cable, user guide, and most importantly, a charging case. Since earbuds have shorter battery life than over-the-ear headphones, there's a great likelihood you'll have to charge them on the go. 
How we test the best wireless headphones and earbuds
To help you separate the wheat from the chaff when shopping for headphones, Tom's Guide evaluates the following criteria: design, comfort, features, performance and value. We employ a rigorous review process, comparing products with similar fit, features and pricing.
Each pair is worn over the course of a week for 2 hours at a time. During this testing period, the staff is evaluating comfort, ease of use and, of course, audio quality. We listen to several predetermined sample tracks that span a number of genres, including hip-hop, rock, jazz, classical and R&B, and we evaluate the volume, clarity and fullness.
Find out what we listen for during our testing process and how to get the best headphone sound for you.
In terms of features, we test the effectiveness of active noise cancelling, Bluetooth range and battery life. For the fitness-focused models, we test to see how they stand up to vigorous workouts, evaluating both how securely they fit while we exercise and how well they handle ambient noise from things like falling weights and gym machines. We test every feature for app-enabled headphones along with ease of setup.
Once we complete our testing, we rate headphones based on our five-point system (1 = worst, 5 = best). If a product is truly exemplary, it's awarded an Editor's Choice.
NEXT: See what we made of the latest mid-range wireless buds with LDAC codec support for best-quality wireless streaming in our full 1More Evo review.
And now that more streaming music services are offering high-resolution resolution audio, be sure to read our audio codec for everything you need to know about FLAC files, MP3s and everything in between.