Tech
The best gaming PCs in 2022
The best gaming PCs can handle the most resource-demanding and graphically intensive video games — and do so in the biggest and most elegant design possible. Though these machines provide many benefits, they can often come with the steepest price tags in the PC market. Lofty costs notwithstanding, owning a powerful gaming rig pays off in numerous ways.
On top of experiencing games at blazing-fast frame rates and ultra-high resolution, these premium-priced computers can also handle graphic design, animation and streaming movies in 4K on your TV. Of course, you can also use them for everyday computing such as work.
We test all the new gaming PCs we can get our hands on to see if they pass muster for this list, and update the page as systems become available. Read on, and we'll help you find your next great gaming machine.
And now that we're in November, we're rounding up the best Black Friday deals too!
The best gaming PCs you can buy
A judgment of the Aurora R13 is in large part a judgment of the new Legend 2.0 chassis since so much of Alienware's business is based on building you a PC with the specific components you want. And after spending a couple of weeks working, playing and mucking around with our review unit, we can tell you that the Aurora R13's new look is a winner.
The redesigned chassis is easy to access, offers plenty of ports and has enough ventilation that even after gaming in 4K for hours, I noticed only a mild hum and a pleasant warmth emanating from the PC. Since the computer weighs up to 35 pounds, it's a bit hefty to move around (watch those fins) or plop on a desk. But if your desk can accommodate it, the space-age design and customizable RGB lighting are sure to turn heads.
If you can afford it, Alienware will fill the Aurora R13 with top-of-the-line components that make it a top-tier gaming PC. At nearly $3,000, our review unit is far from cheap, but it's powerful enough to play the latest and greatest games in 1080p for years to come. Just don't expect blazing-fast framerates at 4K for that price — the Aurora R13 gets as expensive as any other PC on this list if you fill it up with top-tier components.
Make sure you check our Dell coupons page to find the latest discounts.
Read our full Alienware Aurora R13 review.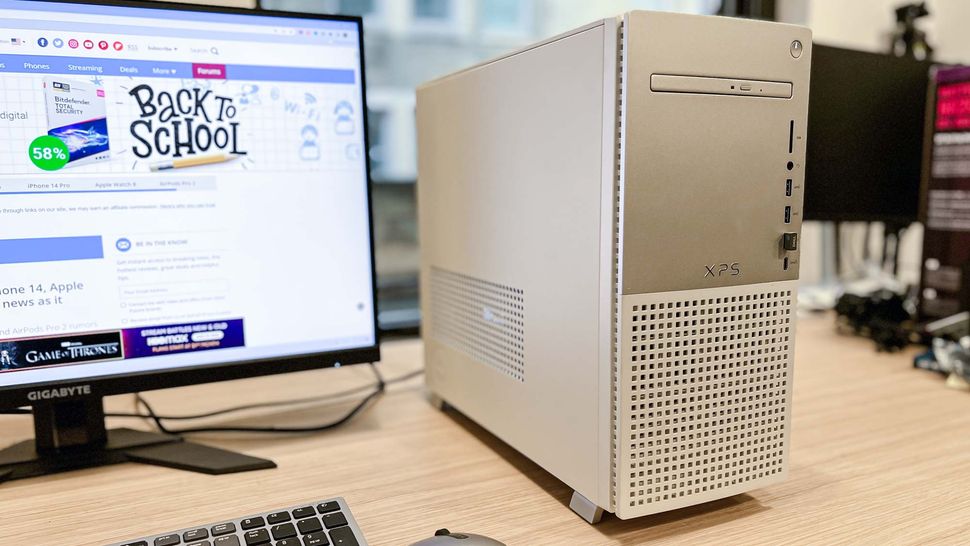 The Dell XPS 8950 (starting at $749) proves that a gaming PC doesn't need to have an ostentatious design to be worth buying. As with its predecessor, the Dell XPS 8940, this desktop seems more suited to an office setting than one's personal gaming den. But despite its nondescript appearance, the XPS 8950 has plenty of power to run the best PC games.
Dell offers a slew of upgradability options for this desktop, including additional RAM and storage, a liquid-cooled CPU and up to an Nvidia RTX 3090 GPU. And since this rig is so customizable, you can add whatever components you may already own. But no matter which configuration you opt for, it will pack a powerful 12th gen Intel Core CPU.
Read our full Dell XPS 8950 review.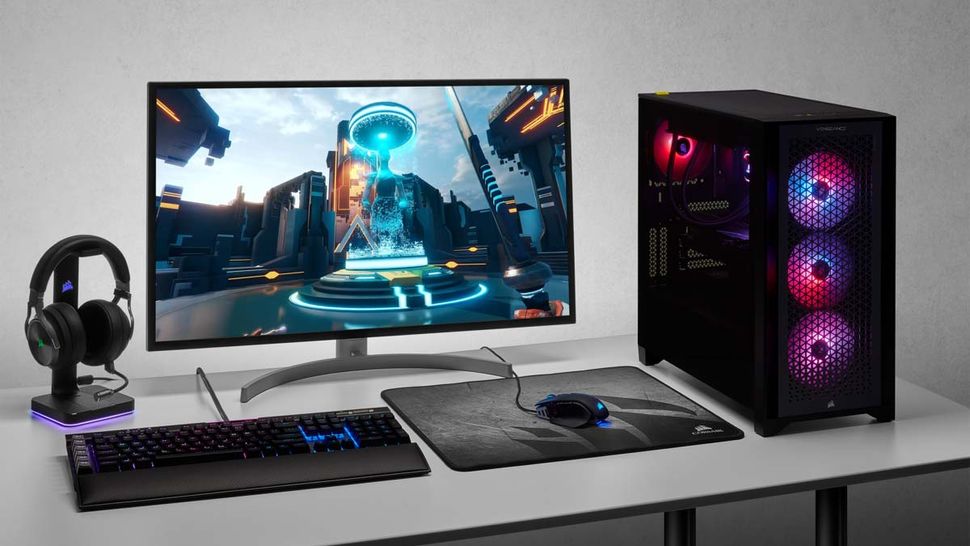 The Corsair Vengeance i7200 doesn't cost nearly as much as some of its competitors, but it still gives you access to some of the most powerful hardware on the market. That's because the Vengeance i7200 comes in a plain-looking case, and doesn't include any peripherals. But if you prefer substance to style, this is probably the right gaming PC for you. With CPUs up to an Intel Core i9 and GPUs up to an Nvidia GeForce RTX 3090, you can make a beast of a machine — if you can pay for it.
Apart from that, the Vengeance i7200 features beautiful RGB lighting, a tasteful glass side panel and extremely quiet fans. That makes it a good productivity tool in addition to a gaming powerhouse. Whether you game in QHD or 4K, there's almost certainly a Vengeance i7200 build that will work with your setup.
Read our full Corsair Vengeance i7200 review.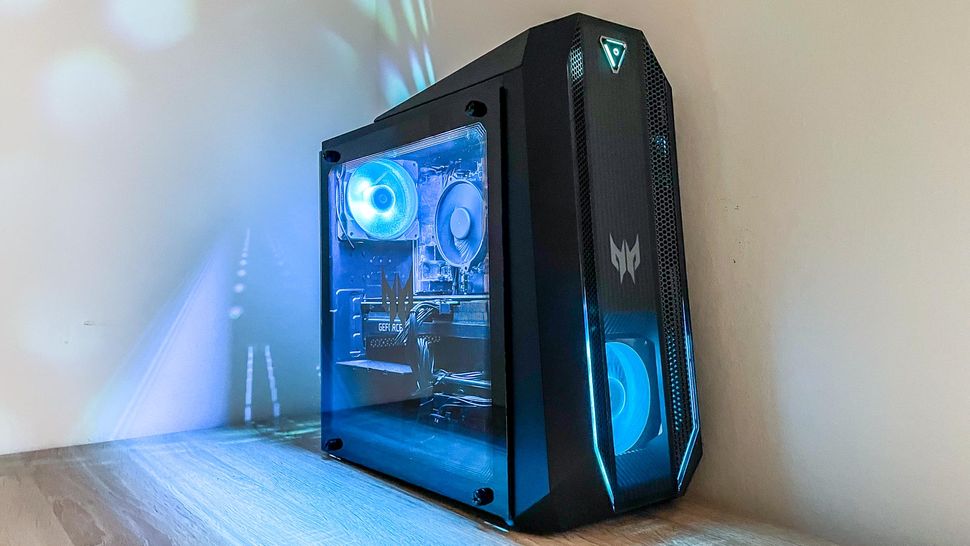 The Acer Predator Orion 3000 ($829 to start, $1,949 as reviewed) is a mid-sized gaming PC that's attractive, (relatively) affordable, and great for playing games at 1080p to 1440p.
It's not a great choice if you're looking to play games at 4K, however, and its packed-in keyboard and mouse leave much to be desired. The Orion 3000 also fared slightly worse in our suite of performance tests than some similarly-priced gaming PCs, perhaps because our review unit arrived with just 16GB of RAM.
The case is well-organized and easy to open though, so it should be pretty easy to upgrade this machine with more RAM when you need it. With its sub-$2,000 price, beefy components, and stylish, accessible case, Acer's Predator Orion 3000 is a great first gaming PC for someone looking to get into the hobby.
Read our full Acer Predator Orion 3000 review.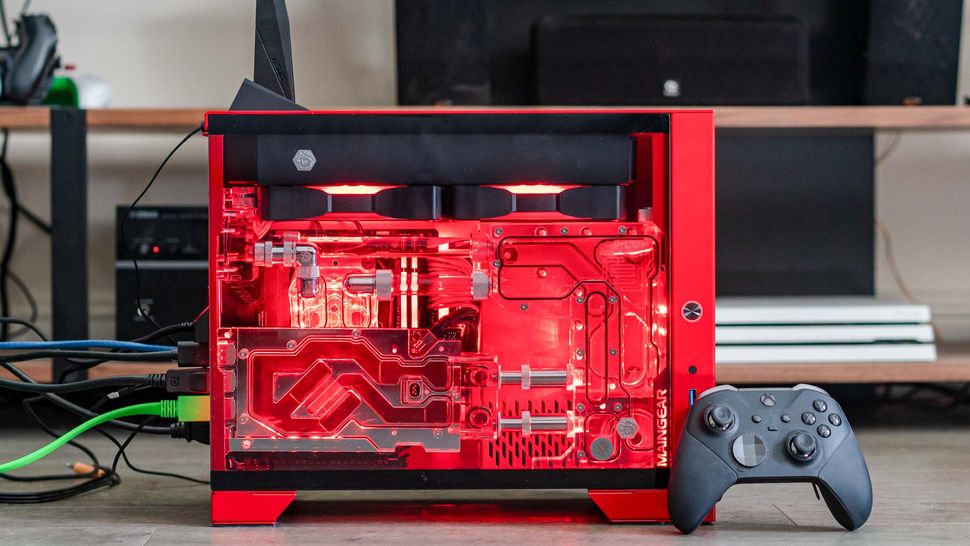 The Maingear Turbo ($2,162 to start, $7,199 as reviewed) is a juggernaut. Blistering speeds befitting the name are coupled with a dizzying price tag, as the bespoke PC vendor has packed the most powerful (and expensive) hardware available into this singular machine.
But Maingear takes it one step further, packing top-tier components into a compact chassis that delivers performance in a fraction of the space, silently. You might get a bit better bang for your buck by looking at other options on this list or building your own. But what's exciting about the Turbo is that if you have the cash, you can get Maingear to trick one of these compact machines out with the latest and greatest components — including the company's eye-catching APEX cooling system.
Admittedly, the Turbo's small, stylish case isn't easy to poke around in once you fill it up with a cooling system, a giant GPU and some storage drives. But if you have the cash to burn and just want a quiet, stylish compact PC that can run all the latest games at blistering-fast framerates, this is the gaming rig for you.
Read our full Maingear Turbo review.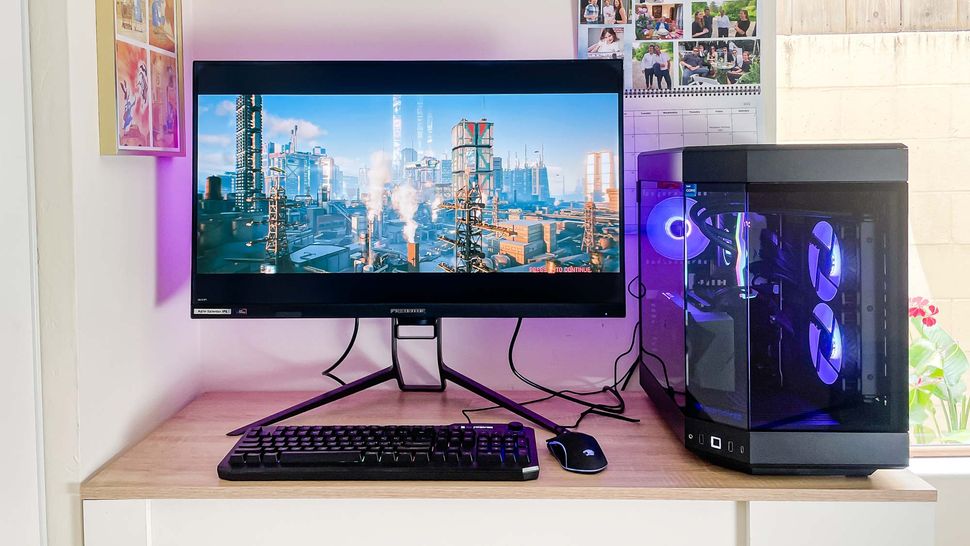 The iBuyPower Y60 is a great gaming PC if you want an eye-catching system that plays games well while showcasing what's inside to full effect.
Our review unit packed powerful components inside the Hyte Y60, a mid-tower case from iBuyPower's sibling brand that's nearly all tempered glass on two sides, making it look a bit like a giant fish tank. While it's a bit heavy and unwieldy to move around, once you have the case in place it's quite roomy and easy to work in—though our review unit kicks out quite a bit of heat once you start gaming with gusto.
You can order a prebuilt Y60 system from iBuyPower or have them build one to order for you, making this a great choice for someone who knows what they want and has enough desk space to showcase the Y60 to full effect.
Read our full iBuyPower Y60 review.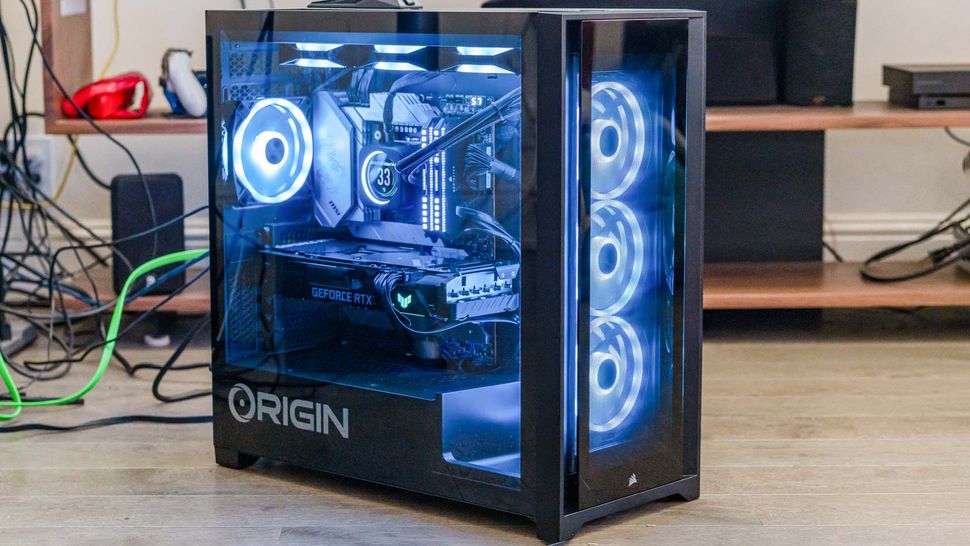 The Origin Millennium is a fine showcase of what Origin can do, giving you the opportunity to customize a gaming rig built into a sleek, physically imposing (if technically mid-sized) chassis. It's not cheap, and while you can step through a configurator to build a machine that's in line with your budget, Origin charges a premium for their services. But if you absolutely must have the latest and greatest and are willing to shell out for it, you'll find a lot to like here.
This PC isn't technically isn't doing anything you couldn't build yourself (provided you can find a graphics card), but sometimes having someone else do the legwork, and being available to offer support if something goes wrong, can be worth the price tag. And if you've got room in your budget, the Origin PC Millennium makes a strong case for letting someone else do the work.
Read our full Origin PC Millennium (2022) review.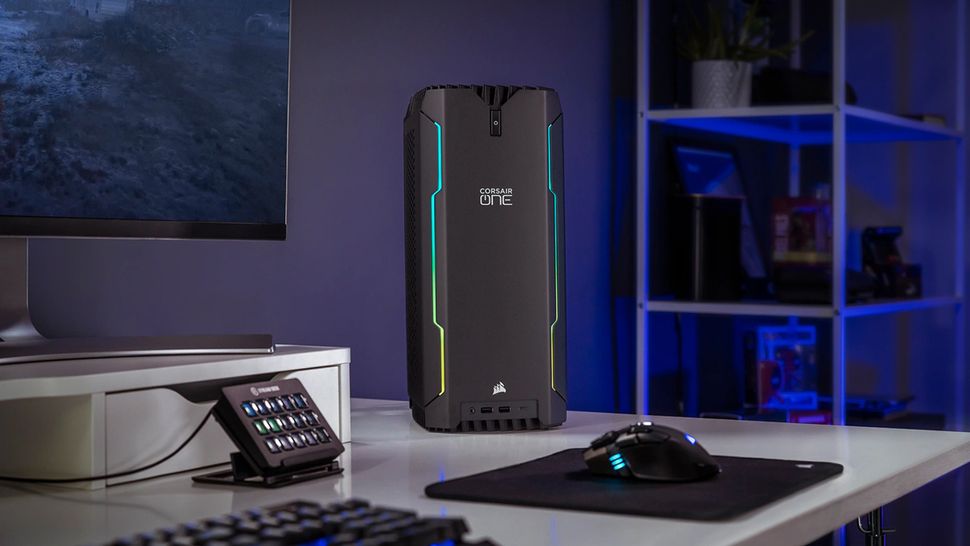 The Corsair One i300 demonstrates that when it comes to the best gaming PCs, you often get what you pay for. This gorgeous machine will set you back at least $4,000 (at time of review), and if you want top-of-the-line hardware, you'll have to pay even more than that. But in return, you'll get a compact chassis with a striking design, a bevy of ports and hardware that's powerful enough to run the latest and greatest games at the highest possible settings.
While the One i300 won't be in everyone's price range, it's well worth thinking about if you can afford it. Otherwise, you can save some money by going for the Alienware Aurora, even though it'll cost you some floor space instead.
Read our full Corsair One i300 review.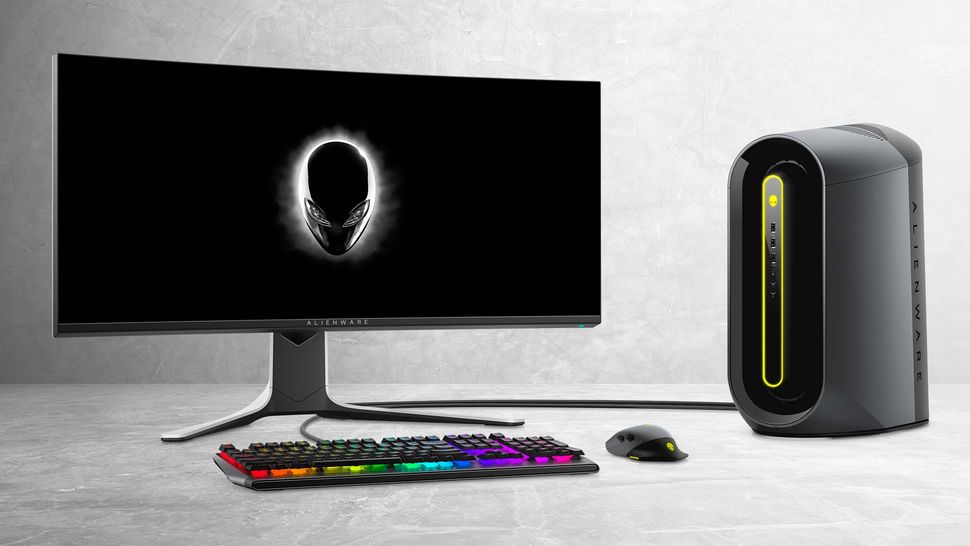 If you want a powerful pre-built gaming PC, but want to steer clear of Intel and Nvidia components, then the Alienware Aurora Ryzen Edition R10 is the way to go. This gaming PC is large and heavy, but that's because it packs top-of-the-line AMD CPUs and GPUs. It's a powerful tool for full HD, QHD or even 4K gaming, and yet it's not as obscenely expensive as these systems come.
Granted, Alienware machines tend to sound like jet engines, and the Aurora Ryzen Edition R10 is no exception. Furthermore, the R10's built-in software tends to confuse rather than enhance the experience. But when it comes to high-fidelity gaming with AMD components, the Aurora Ryzen Edition R10 is one of the most comprehensive systems currently available.
Read our full Alienware Aurora Ryzen Edition R10 review.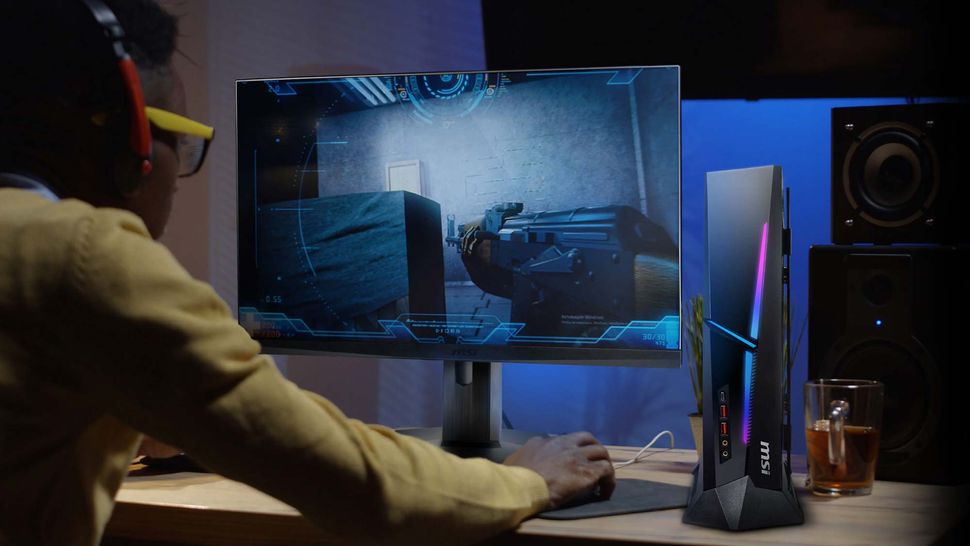 The first thing you'll notice about the MSI MEG Trident X is that it's absolutely gorgeous. This small, angular machine fits easily into just about any gaming nook, and is ideal for either desktop or living room setups. The second thing you'll notice is that it runs games absolutely beautifully, whether you want to experience them at full HD, QHD or UHD settings. With a variety of processor, GPU and RAM options from which to choose, you'll be able to customize a machine that works for your games, and for your monitor.
Just be aware that no matter how you design the MEG Trident X, it's going to be expensive. Furthermore, the accessories it comes with — the MSI Clutch GM11 Mouse and MSI Vigor GK30 Keyboard — are mediocre at best, and disappointing at worst. Still, in terms of both physical design and raw performance, the MEG Trident X is one of the most gorgeous and functional gaming PCs on the market today.
Read our full MSI MEG Trident X review.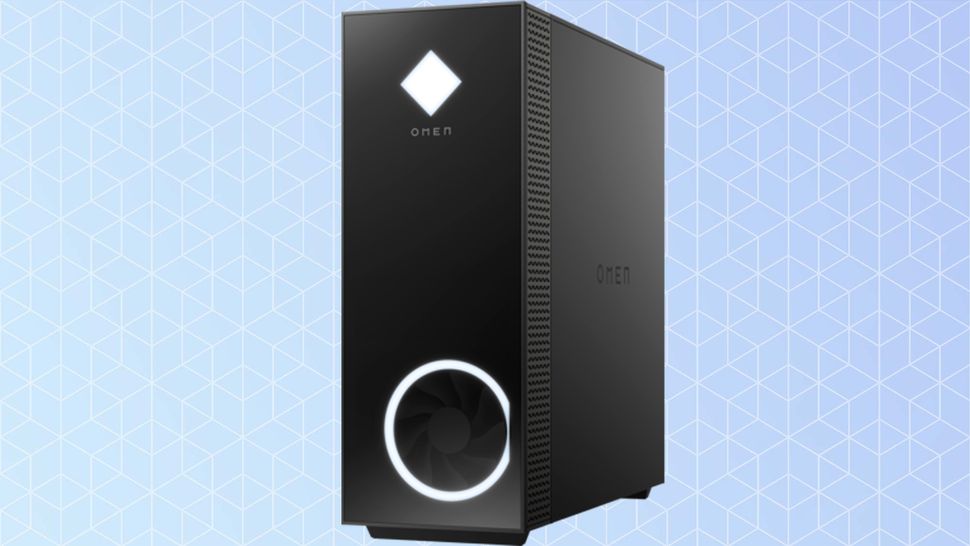 The HP Omen 30L Gaming Desktop has one significant advantage over many of its competitors: It's quiet. It turns on with a gentle whirr and provides ambient white noise when you're running demanding games. Compare and contrast to the jet engine sounds of other modern gaming rigs, and the Omen 30L has a lot going for it, even just as an everyday productivity machine.
The HP Omen 30L also runs games beautifully, thanks to its powerful hardware and quiet cooling system. It's expensive, though, and packed with a lot of extraneous software and accessories. Still, the HP Omen 30L Gaming Desktop is a thing of beauty: an elegant, quiet and powerful gaming PC. 
Read our full HP Omen 30L Gaming Desktop review here.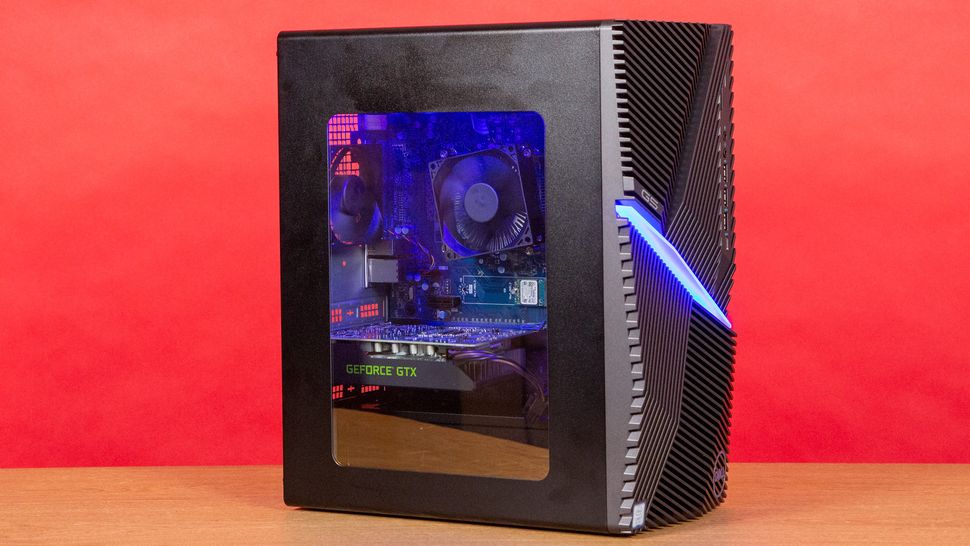 (opens in new tab)
The Dell G5 5090 is one of the best gaming PCs for folks who want a solid entry-level machine that's very easy to upgrade. This fairly affordable desktop starts with a modest Core i3 processor and Nvidia GTX 1650 card but can be outfitted with up to a Core i7 CPU and RTX 2080 GPU for more intensive gaming.
One of the G5's biggest selling points is its sleek, foolproof chassis, which is incredibly easy to open up should you want to swap out components over time. We found Dell's desktop to be reliable for playing AAA games at 1080p and 60 frames per second, and like that the machine comes mostly free of bloatware. Overall, if you need a good, affordable desktop that you can make more powerful over time, the Dell G5 5090 is a great choice.
Read our full Dell G5 5090 review. 
How to choose the best gaming PC for you
Price: If affordability is your concern, most decent gaming PCs start around $700 to $1,000. For that price, you're looking at specs such as Intel Core i3 and Core i5 processors, Nvidia 1660 and 1660 Ti GPUs and 8GB to 16GB of RAM.
Performance: Think about the type of gaming experience you're after. Game streaming services like Google Stadia can offer decent performance, but if its solid 1080p/60fps gaming you want, a machine with a decent Core i5 processor and GeForce 2060 or AMD Radeon RX 5600 GPU will get you there. Cards such as the Radeon RX 5700 and GeForce 2080 hit a nice sweet spot for dependable 1440p gaming. Going 4K? You'll want to spring for hardware such as an RTX 3080 or AMD RX 6800.
Upgradability: Gaming PC components are always evolving, and the best gaming PCs can be easily upgraded with new parts over time. Machines such as the Alienware Aurora and Dell G5 are easy to open up and tinker with, even for the less tech-savvy. Compact machines, such as the Corsair One, can be a bit harder to open up. So if you plan on upgrading your investment over time, keep this in mind.
VR-readiness: Want to game in VR? Requirements for headsets such as the Oculus Rift S and HTC Vive start at an Nvidia GTX 1050 Ti / AMD Radeon RX 470 GPU, an Intel Core i3 or Ryzen 3 processor, 8GB of RAM and a DisplayPort 1.2 or mini DisplayPort. Make sure your machine meets this requirement before you plunk down cash for one. 
How we test the best gaming PCs
In our search to find the best gaming PC, we run every model we review through a standardized gauntlet of real-world and benchmark tests, in order to measure how each desktop stacks up as both a gaming machine and as an everyday computer.
As far as hard numbers go, we currently run the framerate benchmark utilities for Shadow of the Tomb Raider, Far Cry: New Dawn, Red Dead Redemption 2 and Grand Theft Auto V at 1920 x 1080 with graphics maxed out, as well as at 2560 x 1440 and 4K if a system allows for it. On top of that, we play tons of graphics-intensive games in order to give you a sense of how these gaming desktops hold up anecdotally.
In terms of synthetic tests, we run a gamut of benchmarks that include 3DMark Fire Strike Ultra (for graphics) and Geekbench 4 and 5 (for processor performance). We also run the SteamVR Performance Test on all of our machines to evaluate how ready they are for virtual reality. To test a system's hard drive, we measure how fast each PC can copy 4.97GB worth of multimedia files.
For more information, check out our how we test page for Tom's Guide.