"Technology is becoming the backbone of health services delivery at all levels"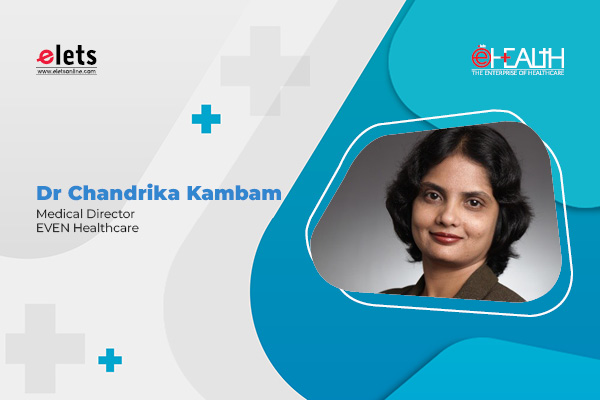 dr. Chandrika Kambam, medical director, EVEN Healthcare shares her organization's 2022 vision for transforming the healthcare industry in the new fiscal year. Edited excerpts:
What is your company's vision for the new fiscal year?
I'm starting my new fiscal year at a company called Even Healthcare. The company is building a concept of preventive and managed care in India and offers its members unlimited OPD coverage. As we turn two in June, our focus is on growth and familiarizing consumers with this new way of managing their health with a team that delivers end-to-end services from outpatient coverage to inpatient coverage.
What innovations does your company plan in your products, services and marketing strategies to provide better service to customers?
Even healthcare as a concept is in itself new to India. Such products have been available in the western world for some time now and are well accepted by consumers. In India it was done by a few closed group organizations for their own employees like Defense, central government schemes etc but not for the public. The concept of managed care via a GP concept is therefore unique. It will largely help people, where they currently lack that one doctor who can guide them through their healthcare journey. Second, the idea of ​​providing unlimited OPD coverage is a game changer as no traditional healthcare setup offers OPD coverage. Since India is one of the countries with the highest own health expenditure, we think this concept could be very beneficial for Indians. In addition, we focus on a holistic approach to caring for our members and provide inpatient care, emergency care and a 24×7 dedicated care team.
How do you see the healthcare sector evolving in the new financial year? What new challenges and opportunities do you see?
Healthcare differs from the traditional brick and mortar model. Technology is becoming the backbone of delivering health services at all levels. Many out-of-the-box healthcare models are emerging, providing a huge opportunity for health professionals to explore and be a part of this revolution.
Each new wave comes with its own challenges. For the start-ups, they need to gain consumer trust and start accepting the new normal. For Hospitals, they have to compete not only with comparable corporate hospitals for acute care, but also with start-ups, for business and for manpower retention.
What are the positive catalysts for ICT adoption in government?
Positive catalyst for information and communication technology by government is better reach of tier 2 and 3 cities where 70% of our population lives. Health and education are two important aspects, if they are improved it will help the economy of our country greatly. With the help of ICT, the government will be able to provide primary care at ease and refer patients to district and tertiary centers in a timely manner. It will also help to educate students and continue the same even during pandemic. Smooth availability of the internet and hardware and software also acts as a catalyst.
What are the challenges or roadblocks that could hinder the adoption of digital technology in the public sector?
Challenges mainly lie in the construction of the infrastructure. It is very important to understand the value of what technology can do and how it can be used by local leaders for the benefit of the population. I'm sure we have enough resources, but if this understanding isn't there, we won't allocate resources properly. Educating people at the grassroots level, making content available in the vernacular and in the easy-to-understand format is also required.
What is your vision for introducing new IT tools and technologies into your organization?
What is your vision for introducing new IT tools and technologies into your organization? Before considering new IT tools and technologies, we must first apply electronic health records to all areas of our documentation, from ambulatory to clinical work. Even large corporate hospitals are still struggling to adopt EMR. I see so many patients with scribbled, hard-to-understand outpatient prescriptions. Technologies are being developed at the speed of light, but have little adoption?
Follow and connect with us on Facebook, TwitterLinkedIn, Elets video