Tech
Nissan Ariya release window, price, range, interior and more
Nissan Ariya: Spoecs
Release Date: Fall 2022
Price: From $47,125
Power: 2 motor AWD
Battery Range: 300 miles
0 to 62 mph: 5.1 seconds
Smarts: ProPilot Driver assistance, new voice command tech, e-Pedal, Android Auto, Apple CarPlay, Alexa
The Nissan Ariya may be coming a little later than first promised, but it's getting here very soon. And it looks like Nissan has its sights set firmly on the Tesla Model Y, with an electric crossover SUV that is a sight to behold.
The Nissan Ariya is set to arrive in the U.S. sometime in the Fall, following launches in Japan and Europe. When exactly still isn't clear, and the ongoing global chip shortage has complicated matter. But this will mark the next stage in Nissan's long-running EV strategy, following its success with both generations of the Nissan Leaf. So here's everything you need to know about the Nissan Ariya.
Nissan Ariya 2022: Release window and pricing
The Nissan Ariya prices will start at $47,125 when it arrives sometime in early 2022. For reference that's almost $12,000 cheaper than the Long Range Tesla Model Y, the cheapest SUV Tesla offers, which starts at $58,990. Nissan is still eligible for the $7,500 federal tax credit too, which means you'll end up paying even less
Deliveries of the Nissan Ariya have already kicked off in Japan, with around 1,500 deliveries reported by the end of May. The car was originally due to hit Japan last summer, but had to be delayed due to supply chain shortages. Those issues also means the first American deliveries aren't likely to happen until Fall 2022.
But if you don't have your order in already, you likely won't be getting an Ariya this year. Reservations have now closed, and dealers have been instructed to stop taking order, all because supply chain issues mean Nissan has run out of Ariyas to sell for the immediate future.
Nissan Ariya 2022: Design and interior
The Ariya's styling is relatively unchanged since the concept car that broke cover at the Tokyo Motor Show in 2019, and that's just fine with us.
It's a futuristic-looking thing, with slim LED lights, an angular front end, large grille and a gently sloping roofline that gives it an almost coupe-like feel. A single horizontal brake light gives the rear a similarly sci-fi vibe, and we're big fans of the Akatsuki Copper color. Check out the gallery below for a closer look at the Ariya.
On the inside it's clear that Nissan has made big changes from the current Leaf hatchback electric car. It has a larger 12-inch infotainment display, a digital gauge cluster,  and a very modern-looking interior you'd expect from any premium electric car. But this time it's in a Nissan.
Nissan also hasn't followed the trend of adding all controls to the touchscreen, which can be difficult to use while keeping your attention on the road. So there's also a touch-sensitive pad on the dashboard for climate control, and while not as tactile as buttons it's better than the alternative. 
Naturally the wheel also has a number of key controls built in, so you should be able to alter settings without blindly flailing at flat screens and panels.
Nissan Ariya 2022: Performance
Performance will depend on which of the five models you drive.
The entry-level two-wheel-drive version has a 63 kWh motor that supplies 215 bhp and can go from 0-62 mph in 7.5 sec, while the all-wheel-drive, 87 kWh model has 239 bhp and covers the same distance in 7.6 seconds — the discrepancy caused by the heavier battery pack.
Both of those models are also available with Nissan's new e-4orce four-wheel drive system, which is good for 278hp and 306hp, respectively. Acceleration is faster here: you'll hit 62 mph in a speedy 5.9 or 5.7 seconds.
Finally, there's the top-of-the-line Ariya e-4orce 87kWh Performance model. This offers up 389 bhp and can sprint to 62mph in 5.1 seconds — making it faster than a Porsche Macan.
Nissan Ariya 2022: Range and charging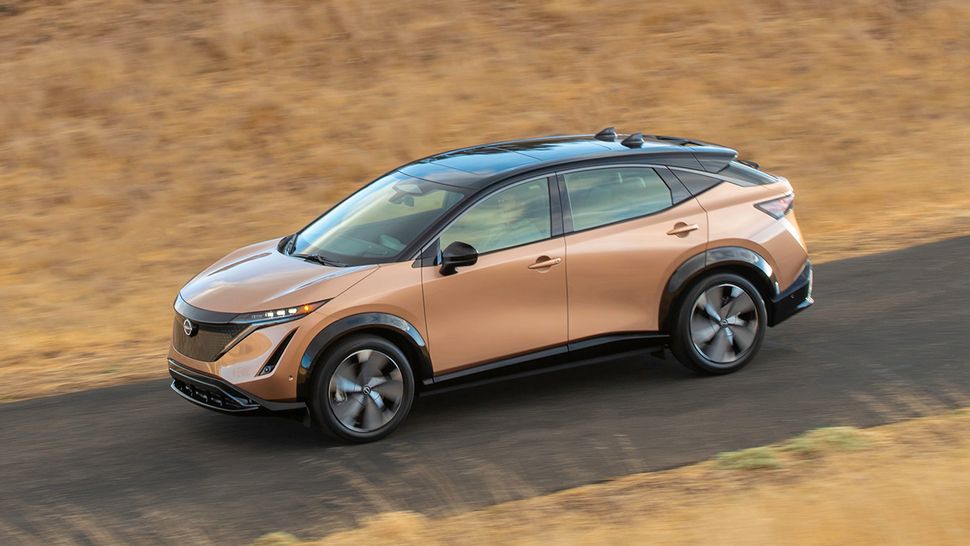 The Nissan Ariya's range is also determined by which model you drive. The $47,125 front-wheel drive Ariya Venture Plus is good for 300 miles of range — the highest of any Ariya models coming to the United States. By contrast, the Tesla Model Y can go 315 miles in Long Range form and 298 with the Performance model.
Next down the line if the Ariya Evolve Plus FWS, which offers 285 miles of range and starts at $54,625. The Premiere FWD also offers 285 miles of range, but costs an increased $54,625.
Meanwhile the AWD Nariya Platinum Plus, with e-4ORCE dual motor all-wheel control, offers 265 miles of range. Its price starts at $60,125.
All these cars have 87 kWh batteries and are set to come with 22kW AC fast charging and up to 130kW DC rapid charging — all with the CCS charging standard, rather than the CHAdeMO port used on the Nissan Leaf
Unfortunately Nissan hasn't yet revealed just how speedy that charging will be for any of the models.
Nissan Ariya 2022: ProPilot and Intelligent Integration
In keeping with its looks, the Ariya is loaded with technology. The electric SUV features Nissan's ProPilot semi-autonomous driving system, complete with freeway driving aids and guided parking. You also get automatic emergency braking (at the front and rear) plus a 360-degree camera system.
Inside, it's all about Nissan's Intelligent Integration concept. The dashboard contains dual 12.3-inch displays — one for driver info and one for infotainment — plus a color head-up display.
The dual screens are particularly cool. Because they're linked, content on one display can be sent to the other with a swipe — for instance, the passenger might find a location on the route and send it to the driver screen for navigation. On the center stack, there are haptic controls that only reveal themselves when the car is running.
Apple CarPlay and Android Auto integration are both on board, too, and you can use Amazon Alexa or Nissan's own voice-control system if you wish. Updates for all of this tech can be delivered wirelessly using a built-in 4G connection.
Nissan Ariya 2022: e-Pedal
One of the more interesting features from recent Nissan Leaf models is the e-Pedal, and that will be coming to the Ariya at launch. However the e-Pedal in the Ariya is not the same as the one in the Leaf.
In the Leaf, e-Pedal is essentially regenerative braking on steroids, allowing for single pedal driving once you learn how to time it right. Just release the gas pedal and the car will automatically come to a stop and won't start up again until you press down on the gas again.
In the Ariya, however, the car won't come to a complete halt. It'll slow down to around 1-2mph and continue to creep forwards until you hit the brake pedal. Why? According to Nissan this is how a lot of drivers use e-Pedal on the Leaf, not trusting the car to come to a complete stop by itself. The impression I got was that there's no option to turn off creep mode in the settings, as you would get in a lot of other modern electric cars.
However the Ariya will still have a dedicated e-Pedal button, letting you toggle the regen on and off while you drive. It's something I wish more EVs offered, rather than forcing you to delve into the settings to adjust everything.
Nissan Ariya 2022: Outlook
Nissan is no stranger to the electric car market, and it seems it's taking a lot of the lessons it's learned from previous efforts and adding them to the Ariya. ProPilot, e-Pedal and all the other things its been perfecting over the past decade.
Crucially we're looking at a car that offers performance to better compete with other electric car makers. But with the electric SUV market becoming increasingly crowded, there's going to be a lot of competition to deal with. Let's just hope the Ariya will be able to survive on more than just brand awareness and its existing reputation as a solid electric automaker.