Tech
Apple M2 chip — New feature, specs and everything we know so far
The Apple M2 chip was unveiled at Apple's WWDC 2022 keynote on June 6, and it's the inaugural chip in Apple's second generation of bespoke silicon. This is significant because the M2 is an evolution of the remarkable M1 chip that debuted in 2020, and it powers Apple's new 13-inch MacBook Air 2022 and MacBook Pro 2022. These are successors to two of the best MacBooks on the market, so it's exciting to see what an M2 injection can do.
With that in mind, here's what we know about the Apple M2 chip so far.
If this chip doesn't enough power for you, we're now hearing rumors of how the M2 Pro version could improve on it. There's also talk of it appearing in a new iPad Pro, including a fresh 14-inch model. Factor in reports of an Apple MacBook Air 15-inch and MacBook 12-inch reportedly in the works, and it sounds like we can look forward to a slew of M2-powered devices hitting the market between 2022 and 2023.
Apple M2 chip: Top new features and improvements
New 5-nanometer chip is a follow-up to the remarkable M1
8-core CPU and up to a 12-core GPU w/ performance improvements over M1
Features 20 billion transistors, which Apple claims is 25% more than the M1
Can support 100 GB/s unified memory bandwidth
Supports up to 24GB unified memory
16-core Neural Engine with improvements over M1 Neural Engine
Capable of playing back multiple streams of ProRes 4K/8K video
Apple M2 chip release date and configurations
The new Apple M2 chip will debut in two new laptops: the 13-inch MacBook Air and MacBook Pro, which are expected to hit the market in July of 2022.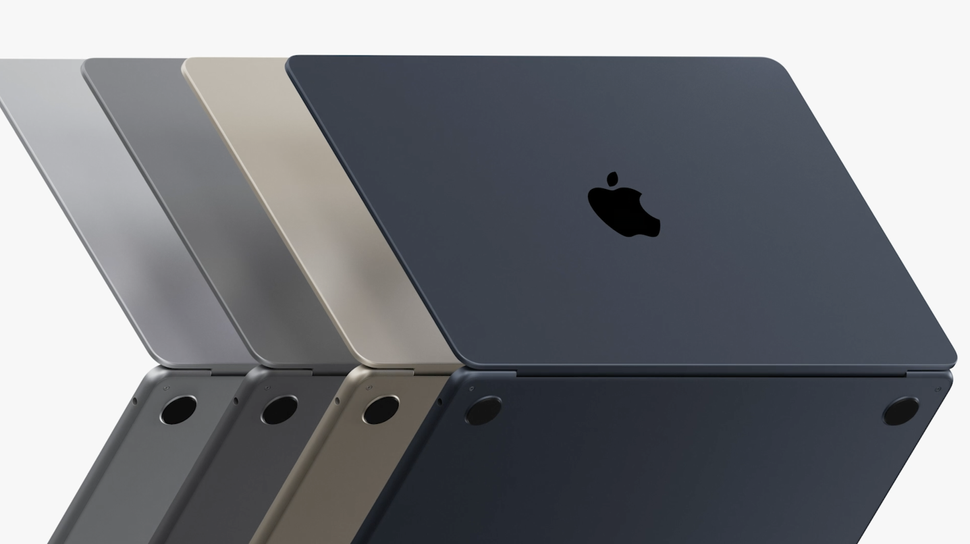 The M2 chip is available in either the new 13-inch MacBook Air 2022 (starting price: $1,199) or the MacBook Pro 2022 ($1,299), so you'll need to pay over $1k to get yourself an M2-powered MacBook. 
Apple M2 chip: Specs
Apple's new M2 chip is configurable with an 8-core CPU and up to a 10-core GPU. That's an improvement over the original M1, which was configurable with up to an 8-core CPU and 8-core GPU. However it can't match the core counts of the beefier M1 Pro and M1 Max chips, which offer CPU core counts of 8-10 and GPU core counts of 16-32.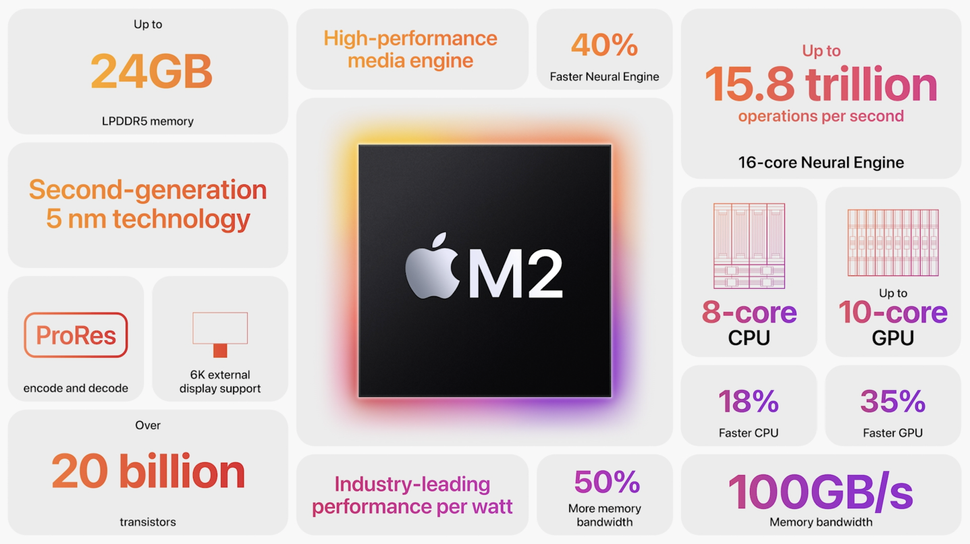 That said, Apple claims the M2 chip is capable of up to 18% greater multi-core performance than the M1. We'll have to test that ourselves, but if it proves true it's good news given that the M1 chip blew us away with its remarkable combination of speedy multi-core performance and power efficiency.
There's also a 16-core Neural Engine built into the M2, just like the M1. The Neural Engine in the M2 can process up to 15.8 trillion operations per second, which Apple claims is over 40 percent more than on M1.
The M2 chip supports up to 24GB of memory, and Apple claims it can deliver up to 2x the performance of the M1 chip while using half the power.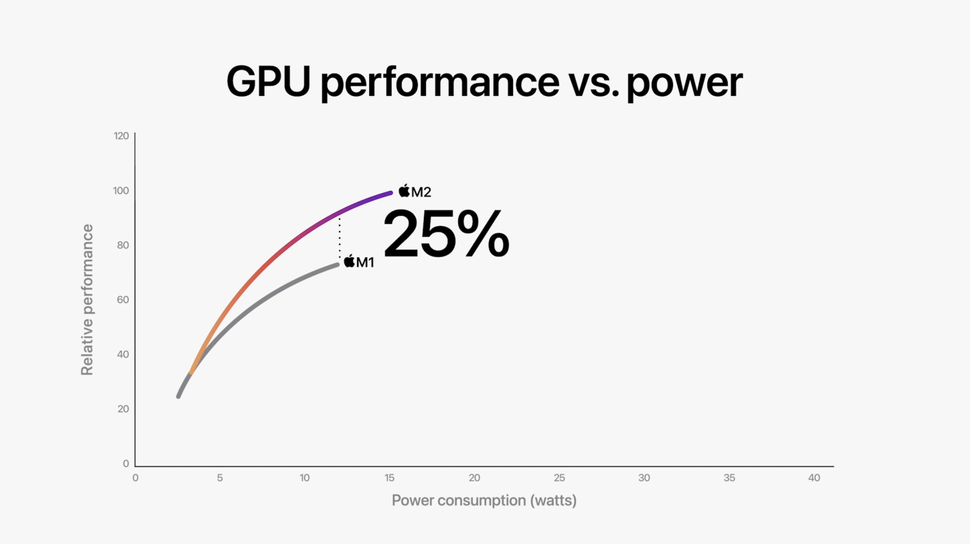 That would be an impressive improvement in performance and power efficiency, and it would back up Apple's claim that the M2-powered 13-inch MacBook Pro 2022 can deliver up to 20 hours of video playback on a single charge. 
The M2 also offers a new media engine that should be capable of decoding up to 8K HVEC and H.264 video, with support for playing back multiple ProRes streams in 4K and 8K.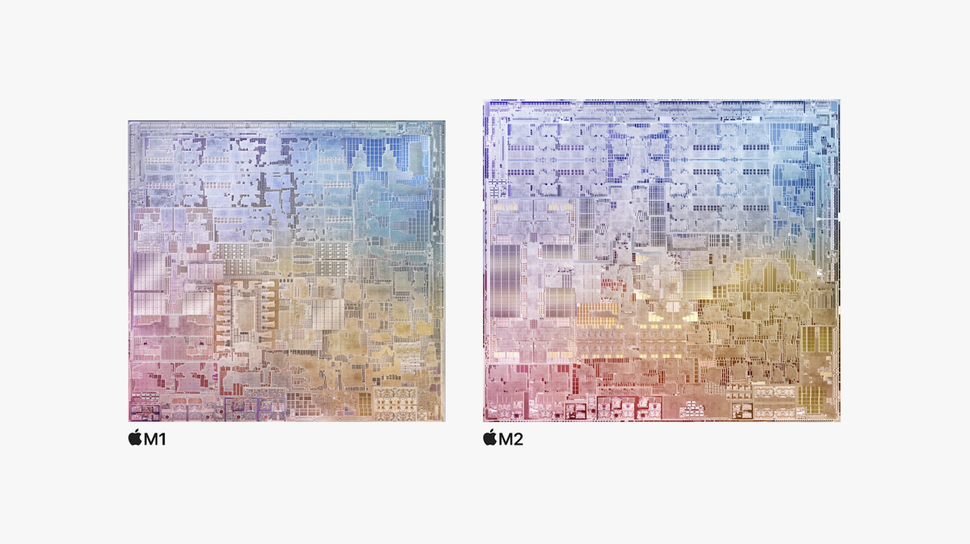 Apple also claims the M2 chip's image signal processor (or ISP) is significantly improved over what was available in the M1, so it should be able to help you look your best on video calls.
Apple M2 chip: Outlook
The fact that Apple has finally released the successor to 2020's industry-shaking M1 chip is exciting, especially if you're a Mac fan who's been eyeing a new 13-inch MacBook. The M2 chip appears to be more of a mid-grade slice of Apple silicon that's likely to outperform its M1 predecessor without matching the heights of the most tricked-out M1 Max. We'll have to test one for ourselves to be sure, and look forward to testing one later this summer.